Weren't sure how tarot related to practice? In this series, Wanderlust teacher Elizabeth Criscidoes a monthly reading to explore how seasonal energies may show up on the mat.
Get your own tarot reading at any Wanderlust 108 OR Wanderlust 2-day city Festival this year. Tickets on-sale now! Or, learn from Elizabeth directly in Wanderlust Stratton this June.
---
May in the Northern Hemisphere is a beautiful month of flowers and sunshine. It's a great time of year to get outside appreciate Mother Earth—particularly as spring is a season for growth and evolution. It's also an apropos time to ask from the abundance of the Earth, and in the modern era more than ever it's important to remember to give back to the Earth with conscious, green actions. Growth is an exchange after all: Exchanging energy is easier during the spring and fall; both transitional times of year when it's easier to connect with other humans. This means it can be a harder time to stay connected to yourself with all of the excitement and transformation and social time, so this month we are focusing on keeping the ground under you. I asked the deck, "How can we stay grounded while growing this month?"
This month I am using a non-tarot guidance deck. This is the Practice You Daily Awakening Deck created by someone very dear to me, Elena Brower. I have been connected to her for many years as a student. Elena has been a guide to me in my own life many times; her deck brings a lot of great feels for me. It's simple to use with clear messages on exquisitely designed cards much in the style of her journal, Practice You. I personally do not use many decks that are not in the traditional 78 card Tarot style, but this deck really speaks to me because of my connection to Elena, as well as the gorgeous simplicity and quality of these cards.
Three card spreads are so versatile—I use them often and have another three card spread this month. Decks are often printed with suggestions for spreads and meanings for the placements of the spread. Elena offers suggestions as well, but I chose to create my own purpose for each placement. In this instance; the first card represents the immediate path, the second card is the advice/obstacle, and the third card is the ultimate fruition or an expansion of the path.
The present moment on the path: Gift
Advice: Blessings
The path expanded: Breathe
Working with a guidance deck is a lot like working with Tarot, and also has some key differences. Traditional Tarot cards are steeped in rich symbolism offering a whole world within itself for interpretation. It's true that some modern decks can be put together with far less intention, and this variety of thoughtfulness shows up in other kinds of inspirational and guidance cards as well. In the end, if it speaks to you, it will work for a reading as the energy that a card conjures for you is essentially what you are working with for interpretation.
The Present Moment
These cards speak for themselves, and offer questions and thoughtful ways to guide your own further inquiry. In the first position, this present moment, the path is standing tall. This card offers the color purple, a feather, simple instructions for cultivating presence, and an invitation to remember that life is a gift. Purple as well as the symbolism of the feather are related to the Third Eye chakra: Lightness, intuition, wisdom. The message of the card is to stay present and grounded, yet there is a deeper invitation to bring your higher Self here to this moment. Being grounded doesn't mean slouching in place, it is Tadasana practice, it's bringing your head and your heart and your feet together in one moment. The negative self speak that disguises itself as "realism" isn't grounded; that's your small voice. Your big voice sees the gift in every moment and stands tall even in the challenges.
Advice
The second card continues this message in blue, the color of communication. "These are the BLESSINGS that are touching me today." Your advice is to keep counting all of the blessings around you. What are your thought loops communicating to you? What world are you creating in your mind? Meditate and use your practice to work with your mind so that you can have choice in your vision. Everyone suffers a negative outlook sometimes, when you realize you are stuck seeing the world in a harmful way this is the moment that you have the chance to make a change. Keep looking towards the beauty, the helpers, the things that make you feel good; even in the most difficult moments we all have something to be grateful for and gratitude is a transformative emotion. Gratitude is a choice that changes you for the better.
Path Expanded
The path expands like practice. "Place hands on heart. BREATHE. Feel grounded and safe. This is how I quiet my body. This is how I steady my system." Red, the root chakra, sends you back to the ground and to yourself. In the end, the practice is simple, and also life long. You are grounded when you are the master of your mind and yourself. Sit, breathe, repeat; forever. This space offers you the opportunity to see yourself more clearly, every time. To redirect and soothe yourself, cultivate contentment and understanding from the wealth of wisdom that you already possess. To access it you simply must quiet your mind and steer yourself towards wisdom and knowing rather than the constant chatter of the fear based ego. You are the ground and you are the path. This leads you to the understanding of this as a lifelong practice.
—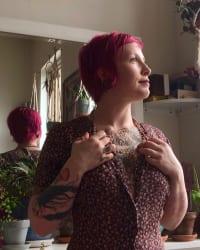 Elizabeth is a yoga teacher, mala maker, and ritual practitioner living in Bushwick, Brooklyn. Her art and practice are inspired by her grandmothers who taught her craft and divination respectively at a young age. She grew up in a matriarichal family, a descendent of two yoga teachers (her maternal grandmother and great grandmother)— this life has been in her blood. Elizabeth has studied with many brilliant teachers and she's so grateful to Alan Finger, Elena Brower, Jillian Pransky and the Katonah Yoga lineage for their influence and wisdom. Elizabeth teaches public classes in Manhattan and Brooklyn and offers private yoga as well as Tarot readings in person and online. Find out more about her and her work at love-by-e.com. 
1
The post Tarot Reading for Yogis: Your May Forecast appeared first on Wanderlust.